Midweek Break boating holiday to Hebden Bridge & Brighouse -
28 miles 46 locks 22 hours

This trip gives you time for walks, the pub or simply to sit and unwind.
Monday -
Mytholmroyd 4 miles 5 locks 3 hours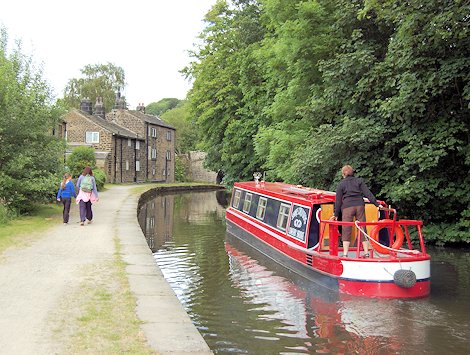 Tuesday -
Hebden Bridge 6 miles 14 locks 6 hours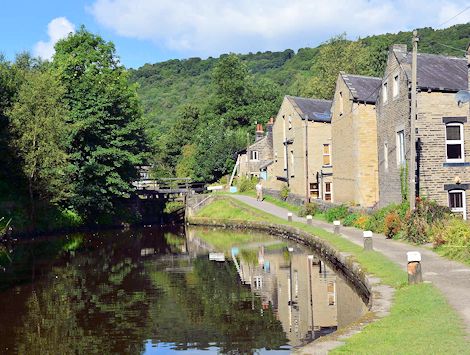 <!- end box -->
Wednesday -
Brighouse 12 miles 17 locks 8 hours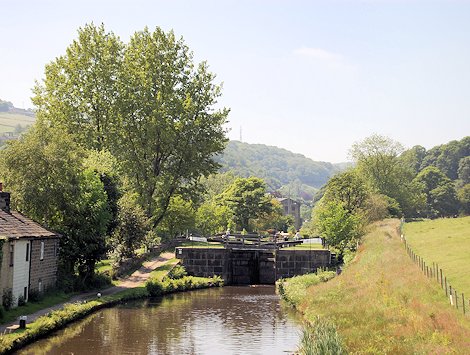 Thursday -
Salterhebble 4 miles 10 locks 4 hours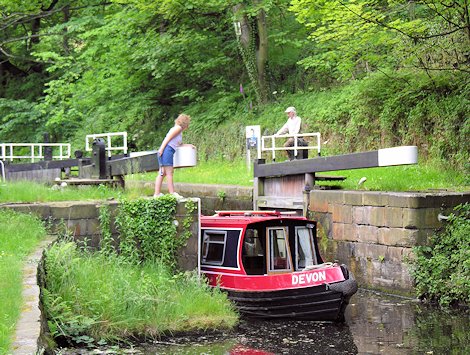 Friday -
Sowerby Bridge 2 miles 0 locks 1 hours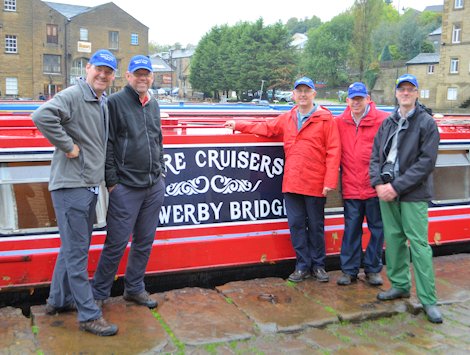 How to Book
Use this form to check availability. When you find the boat you want, click 'Book this holiday now' and you can pay your deposit or hold for 48 hours - or ring 01422 832712.
The counties are the names of the boats, not where they start from! Click the map for routes, and the boat for details
Special Offers
Look for our latest offers.
Customer Reviews
"Scenery was really nice and quite breathtaking at times. The people we met were very friendly and helpful. We spent the weekend eating, shopping and relaxing. Brilliant, loved it." - Mr & Mrs Bruce, Devon
"Great! V relaxing - cooking, reading, hanging out on board, cocktails on the poop deck, lots of birthday cake. Frankie (aged 1) loved feeding the ducks and the playgrounds at Mytholmroyd & Hebden. Clog museum & antiques emporium top visits!"
- Miss Hinde, Sussex
"Hebden Bridge - lovely town & lovely buildings. Had lunch at the Shoulder of Mutton where the food was lovely & people were friendly. Fish & chips well priced at local chipshop."
- Mrs Mangan, Westmorland
" Cruising, dog walks, 'Fish &Chips' at Hebden Bridge. Very helpful gent with own boat helped us at Lock 5. Played football. A wonderful weekend."
- Mr Harding, Sussex
"Canal people - both holidaymakers & residents - universally friendly & helpful, sharing tales & advice. lots of walks with dogs - main ones being Hebden Bridge to heptonstall & Pennine Way from bridge 21."
- Mr Norton, Norfolk
"Hebden Bridge: farmers market, very nice. we met a lady from Antwerpen, Belgium, she enjoyed speaking her own language, was very friendly."
- Vr van den Buuse
"1st night stopped outside Hebden Bridge. Then to Hebden Bridge -stayed a day & 2 nights because walked to Hardcastle Crags. Went up to winding hole before Rawden Mill Lock 12 then back to Sowerby Bridge." - Mr & Mrs Clayton, Devon