Out & back boating holiday into the Pennines - to Walsden

25 miles 62 locks 25 hours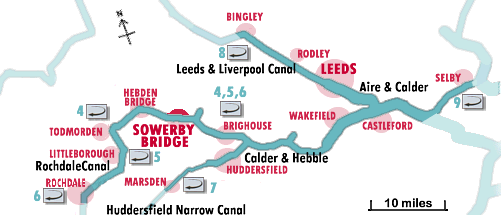 Seven night holiday


Leaving our historic canal basin, your journey begins with the excitement of a new tunnel and the deepest lock in the country. The canal gradually climbs through woods, fields and small stone towns to Hebden Bridge. This old mill town nestles in a fork in the hills, houses piled tier upon tier. Hebden has excellent shops and is full of surprises - everything from horsey clothing to hand-made pottery. Untie, and go on up the valley, its sides closing in with crags and trees and views of the moors high above. A stream runs alongside, and the locks are set among woods or stone cottages. The Pennine Way crosses at Callis.
So to Todmorden, completely untouristy yet with much to enjoy - fine Victorian buildings, especially the Town Hall, a lively market and many places to eat and drink, all dominated by a curving railway viaduct.
From here the going gets serious – more Alpine than Pennine. Pass the Great Wall of Todmorden, go under a splendidly overdone Gothic railway bridge, then stop at the Cross Keys (much recommended). Keep on to Lock 32, above which you can turn and moor up. Walk on to the summit, a spectacular gap in the hills.
Navigation notes
This is one example of routes which our customers enjoy. Distances and times shown are for the return trip. You can vary the distance to suit you, because there are plenty of turning points ('winding holes') marked in the guides on your boat. Information we provide about specific waterways or suggested routes is for general reference only. Please see more about route availability.
This journey has a lot of locks but is well worth the effort. The reason for turning at Lock 32 is that it's the last practical winding hole before the summit. Passage onto the summit is sometimes only permitted for boats making the onward passage to Littleborough.
This trip gives you time for walks, the pub or simply to sit and unwind.