Yorkshire canal adventure holidays
Below we show some examples of routes which our customers enjoy. Distances and times shown are for the return trip. You can vary the distance to suit you, because there are plenty of turning points ('winding holes') marked in the guides on your boat. Information we provide about specific waterways or suggested routes is for general reference only. Please see more about route availability.
For experienced boaters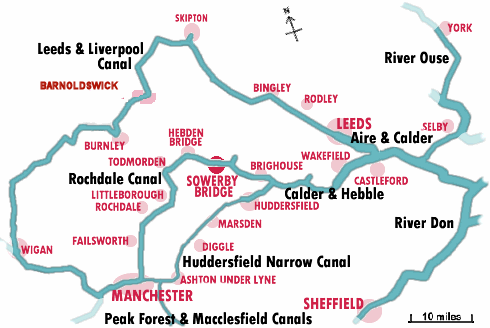 14 or 21 Day Trip

If you like serious boating, long hours and have lots of experience, then we have some challenges for you.

Our One Way trip via Wigan is specially demanding, as is the Cheshire Question Mark.

Have a look also at some of these:
7 night adventure trips
Rochdale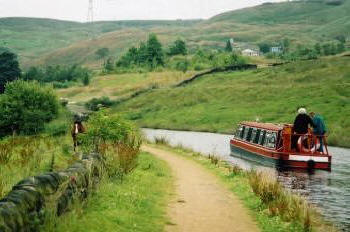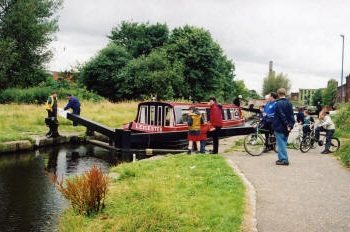 42 miles 98 locks 45 hours
This enables you to cross the summit, the second highest (just) in England at 600'.
Leaving our historic canal basin, your journey begins with the excitement of a new tunnel and the deepest lock in the country. The canal gradually climbs through woods, fields and small stone towns to Hebden Bridge. This old mill town nestles in a fork in the hills, houses piled tier upon tier. Hebden has excellent shops and is full of surprises - everything from horsey clothing to hand-made pottery. Untie, and go on up the valley, its sides closing in with crags and trees and views of the moors high above. A stream runs alongside, and the locks are set among woods or stone cottages. The Pennine Way crosses at Callis.
So to Todmorden, completely untouristy yet with much to enjoy - fine Victorian buildings, especially the Town Hall, a lively market and many places to eat and drink, all dominated by a curving railway viaduct.
From here the going gets serious – more Alpine than Pennine. Pass the Great Wall of Todmorden, go under a splendidly overdone Gothic railway bridge, then stop at the Cross Keys (much recommended). Go on to the summit, a spectacular gap in the hills. Pause at the Summit Inn, your first in Lancashire, before making the steep drop into Littleborough, 12 locks in 2 miles. Turn near the railway station, or possibly go on past Clegg Hall (a Grade 1 listed restored ruin) and through the edge of Rochdale - already surprisingly sylvan - and to its centre. Turn just below Lock 50.
Navigation notes
This journey is recommended for experienced crews only. The western half of the Rochdale Canal is not yet in as good condition as other canals and you may experience difficulty or delays. Some of the locks can be hard work. We will give further details in the Route Companion posted to you in good time before your holiday. Lock 50 is the practical limit for an out and back trip of a week.
14 night adventure trips
Liverpool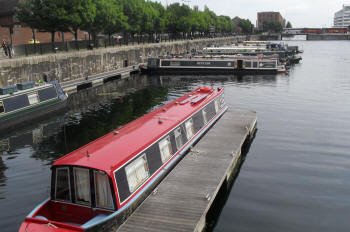 From Barnoldswick base: 164 miles 104 locks 80 hours, plus 14 miles 14 locks 8 hours for Rufford Branch
See the western side of the Leeds & Liverpool, culminating in the magnificence of Albert Dock. Quiet moorings here are a short walk from the city centre with shops, culture and more shops. Tate North and the Maritime Museum are actually in the dock where you moor. On the way back, take time to see the Rufford Branch.
Navigation notes
Your passage into Liverpool is supervised, and must be booked well in advance (Canal & River Trust, Wigan 03030 404040). You will need additional information from us about your boat. Only certain days of the week are available in each direction.
This holiday is only available on boats based at Barnoldswick.
Sheffield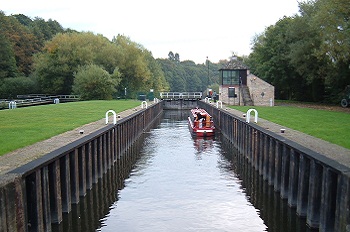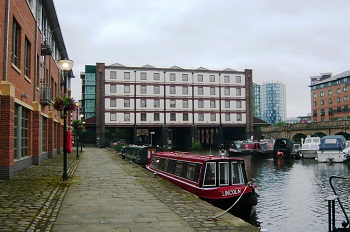 158 miles 114 locks 70 hours
Not an obvious holiday destination, but a fascinating canal journey through a rapidly rejuvenating area to the newly restored basin near the city centre. Enthusiasts enthuse; try it. Not so many locks, and many of them are electric, but still quite a long return journey.
Goole
105 miles 70 locks 50 hours
This takes you to Goole Docks, where you can take a guided boat tour to see the ships.
Travel down the Calder & Hebble Navigation to Wakefield, and take time to visit the Hepworth. Then on to Stanley Ferry and down the Wakefield DYke (properly 'Branch') of the Aire & Calder Navigation to join its main line at Castleford. Stop to see the curving Millennium Bridge across the river, and visit the flour mill museum. Keep on through Ferrybridge, where so much coal used to come by boats to feed the mighty power stations. Through Knottingley, and the canal becomes astonishingly remote, with enormous skies stretching over the flat, rural landscape. Eventually you arrive in Goole, and moor near the Sobriety Project, a waterways museum run by and for people being helped to overcome challenges in their lives.
Goole is a canal town, built from nothing by the Aire & Calder to make a port at the furthest inland point where ships could come up the tidal Aire, one of the three great rivers which combine to form the Humber Estuary. You can see many buildings from that period, and examples of the fixed and (astonishingly) floating cranes which lifted the Tom Puddings (square barges or 'pans') which brought coal in long snaking trains to be lifted into ships, for coastwise transport to the power stations of London. You are not allowed to take your boat into the docks, but hitch a lift on one of the museum's excellent guided boat trips. You may see ships unloading, and if you're lucky see one coming through Ocean Lock, or catch Exol Pride bringing oil from the refineries at Immingham to Rotherham.

Navigation notes
You need to be sure not to cross the invisible line into ABP's dock. Stop by the Sobriety Project or Goole Boathouse.