Between Sowerby Bridge and Ashton-under-Lyne, via Rochdale

38 miles 100 locks 40 hours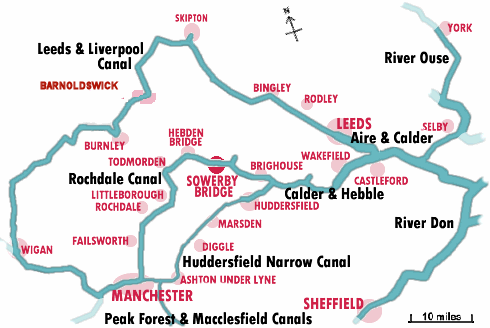 Seven-night One Way Trip


There are real contrasts between the urban Manchester end, some newly regenerated, and some waiting for that; and the Pennine crossing, which has some of the most striking scenery on the system.
Leaving our historic canal basin, your journey begins with the excitement of a new tunnel and the deepest lock in the country. The canal gradually climbs through woods, fields and small stone towns to Hebden Bridge. This old mill town nestles in a fork in the hills, houses piled tier upon tier. Hebden has excellent shops and is full of surprises - everything from horsey clothing to hand-made pottery. Untie, and go on up the valley, its sides closing in with crags and trees and views of the moors high above. A stream runs alongside, and the locks are set among woods or stone cottages. The Pennine Way crosses at Callis. So to Todmorden, completely untouristy yet with much to enjoy - fine Victorian buildings, especially the Town Hall, a lively market and many places to eat and drink, all dominated by a curving railway viaduct. From here the going gets serious - more Alpine than Pennine. Another 18 locks in just three miles bring you breathless but exhilarated to the summit, at 600' the second highest you can scale in England. From here, you drop down into Littleborough. Pass Clegg Hall, a Grade 2* listed building dating from 1618, which was long a ruin but has now been restored. Soon you come to Rochdale itself, where some of the biggest restoration projects have been tackled, including the M62, which for so long seemed permanently to block the canal. Now you go under it by a short but ingenious deviation of the canal. Then descend through town and country, transformed by the restoration of the canal, right to the centre of Manchester. Pubs and restaurants welcome boaters, and the city is full of life and things to do. Finally, follow the Ashton to base.
Navigation notes
You require an active crew; the Rochdale Canal has many wide locks. At least one of the crew must have adequate experience (you need to know how to pace yourselves, and we may not be able to give lock instruction to those who start from Ashton).
This journey is recommended for experienced crews only. The western half of the Rochdale Canal is not yet in as good condition as other canals and you may experience difficulty or delays. We will give further details in the Route Companion available to you as soon as you have booked your holiday. You must tell us at the time of booking that you intend to do this route.
Distances and times shown (for guidance) are for the complete trip. Information we provide about specific waterways or suggested routes is for general reference only. Please see more about route availability.
Transfer arrangements for Ashton
Your direction of travel will be advised the week before you start. It depends on that taken by previous crews. Your Information Pack has all details for both directions. If coming to us by car, you will come first to Sowerby Bridge whichever way the boat is going. All cars are parked at Sowerby Bridge. The easy 20-mile transfer by minibus or taxi to or from Ashton will accordingly be at either the beginning (for the whole party) or the end (for the whole party or just the drivers) of your holiday. Cost about £11 per head, minimum £45, plus a small extra charge for bikes or dogs. We will discuss details with you. Those travelling entirely by train can get to Ashton (Guide Bridge station) and Sowerby Bridge from main line trains at Manchester or Preston.
This one-way trip is available only on Cornwall. Saturday start.