Leeds & Liverpool Canal Routes - short breaks from Barnoldswick

Three or four night holidays
Summit Relaxation 20 miles 6 locks 8 hours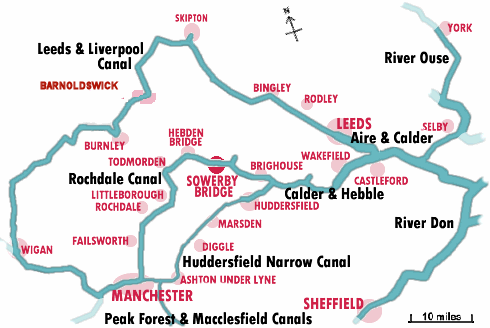 The ultimate in slowing down: take this route if you just want to switch off. Set off through Barnoldswick, a Yorkshire town summarily transferred (stone by stone?) to Lancashire in 1974, then we'll escort you through the three locks at Greenberfield. Stop at the Cross Keys at East Marton and enjoy a good meal in lively company. Next day, set off into one of the remotest and most beautiful places anywhere on the canals, with sheep and birds in all directions. Turn before Bank Newton, and go back past the boatyard to Foulridge. Travel through the mysterious tunnel and turn before the top of Barrowford, before making your way back. Don't miss the Abbot's Harbour at East Marton, the Anchor at Salterforth or Café Cargo at Foulridge.
Gargrave 16 miles 24 locks 12 hours
This route winds along the contours on the side of Airedale, with extensive views of sheep country, and stone growing out of the landscape - farmhouses, barns, stone walls in all directions and the occasional village or small town. At Greenberfield, you leave the summit level, and paradoxically pass into the wildest scenery, where you could moor for days with no human contact but the occasional passing boat, walker or cyclist. Across the valley, you may see a boat behind a stone wall, apparently heading in the same direction as you on a parallel canal - only to find that you meet on a hairpin bend, and pass. Then the Bank Newton flight leads you round and down into Gargrave, an unspoilt canal village with shops and a great choice of places to eat and drink - our favourite is the Masons Arms. Turn and moor above Higherland Lock before heading back.
Skipton 26 miles 30 locks 20 hours
Go down to the bottom of the Gargrave flight ( see above). From here it's level all the way to Skipton, with views of the hills and lots of swing bridges. Quite suddenly, you are in Skipton, and can moor right in the centre of town. Explore the castle, cattle and street markets and shops, before turning to head back.