Between Sowerby Bridge and Barnoldswick, via Leeds by the Leeds & Liverpool Canal

79 miles 79 locks 45 hours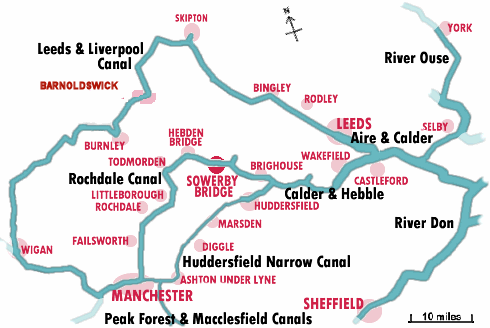 Seven-night One Way Trip


"I just wanted to tell you what a lovely holiday we had over Easter. We have done many canal holidays over the years but never in this part of Yorkshire. We were blown away by the stunning scenery, the lack of queues, availability of moorings and the plethora of welcoming canalside inns. I cannot imagine why we have never tried this area before, but we will certainly try it again, and sooner rather than later. We really enjoyed the one-way itinerary, as it allows you to do so much more in a week. Very few operators have this option so well-done for providing the facility which must be quite difficult to organise. It is also to your credit that you allow dogs on your boats, as very few operators do this. Our dog, who is new to canalling, had a wonderful time and it was fun to watch him come to terms with the new challenges on offer. Our daughter enjoyed the holiday so much more because we had our beloved pet with us. We thought the holiday was very good value and would happily recommend your company to others. Many Thanks."- Phil and Joy, Wirral
One of the great canal journeys, this takes you across the backbone of England and through the heart of the West Riding, in scenery varying from the timeless calm of the L&L summit to the hubbub of just-built waterfront Leeds.
Sail down the leafy Calder & Hebble Navigation past Brighouse, and through wide river sections and narrow cuttings to Wakefield, where there are good moorings not too far from the bright lights. Then on to Stanley Ferry to see the famous aqueducts and two very convenient and contrasting pubs.
You are now on the Aire & Calder, which is still a thriving commercial waterway, though there are now many more pleasure boats than barges. Electric locks and a wide channel help you speed (relatively) round to Leeds, where you sail past the regenerated waterfront. Then join the Leeds & Liverpool Canal which quickly escapes along its own way through fields and woods, with spectacular views of old West Riding industry - particularly Sir Titus Salt's Italianate mills and model town at Saltaire, with its Hockney museum. There are several staircase locks along the way, which culminate in the Five Rise Locks at Bingley, one of the Seven Wonders of the Waterways.
Carry on past the Five Rise and discover some of the most spectacular scenery anywhere on the canals, with extensive views of the edge of the Yorkshire Dales. Skipton makes a splendid place to moor while you explore the Dales by bus or on foot. Then the canal wanders through the moors before the last three locks lift you to the summit pool and so bring you to your mooring at Lower Park Marina.
Navigation notes
You require an active crew; the L & L has many swing bridges as well as those locks! At least one of the crew must have adequate experience (you need to know how to pace yourselves).
This route is partly on river navigations. In normal conditions the rivers are placid but in prolonged wet weather they can flow too fast for safe navigation. In such cases boats wait at safe moorings while flood water recedes - usually quite quickly.
Distances and times shown (for guidance) are for the complete trip. Information we provide about specific waterways or suggested routes is for general reference only. Please see more about route availability.
Transfer arrangements for Barnoldswick
Your direction of travel will be advised the week before you start: it depends on that taken by previous crews. Your Information Pack has all details for both directions. You will come first to Sowerby Bridge whichever way the boat is going. All cars are parked at Sowerby Bridge. The easy 20-mile transfer by minibus or taxi to or from Barnoldswick will accordingly be at either the beginning (for the whole party) or the end (for the whole party or just the drivers) of your holiday. Cost about £11 per head, minimum £45, plus a small extra charge for bikes or dogs. We will discuss details with you. Those travelling entirely by train can get to Barnoldswick (Skipton or Colne station, taxi required) and Sowerby Bridge from main line trains at Leeds, Manchester or Preston.

This one-way trip is available only on Dorset. Monday start.