Part one way trip, part ring - a unique holiday
123 miles 155 locks 80 hours (via Rochdale, excluding the Ashton) 128 miles 188 locks 90 hours (via Huddersfield, including the Ashton)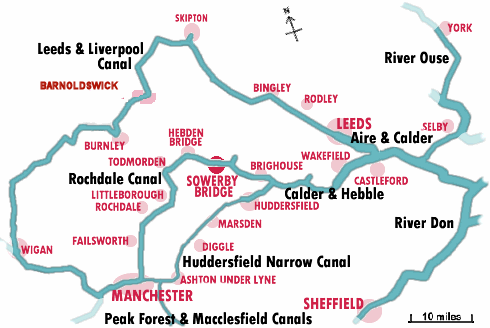 Two Week Trip


This combines a one way trip on the Huddersfield Narrow or Rochdale, with a circuit of the Cheshire Ring, so you keep going forward all the time. It gives you a huge amount to see and do. It requires a seriously organised crew. It's a fortnight's holiday, and remember that your you will start and finish at different bases, so there will be a taxi ride.
Click to see details of the routes via the HNC or Rochdale. The Cheshire Ring takes in the Lower Peak Forest Canal, the Macclesfield Canal, a large chunk of the Trent & Mersey Canal and most of the Bridgewater Canal. Depending how you do it, you do more or less of the Ashton Canal. Look at a map for this to make sense!
Navigation notes
You require an active, experienced crew; there are many locks. The Huddersfield Narrow and Rochdale Canals are not yet in as good condition as other canals and you may experience difficulty or delays. Some of the locks can be hard work. Passage through Standedge is available on Mondays, Wednesdays and Fridays. Dogs are allowed through the tunnel. We will book your passage for you with Canal & River Trust. We will give further details in the Route Companion, available to you as soon as you have booked your holiday.
Distances and times shown (for guidance) are for the complete journey. Information we provide about specific waterways or suggested routes is for general reference only. Please see more about route availability.
This holiday is available only on Cornwall. Saturday start.
Transfer arrangements for Ashton
Your direction of travel will be advised the week before you start. It depends on that taken by previous crews. Your Information Pack has all details for both directions. You will come first to Sowerby Bridge whichever way the boat is going. All cars are parked at Sowerby Bridge. The easy 20-mile transfer by minibus or taxi to or from Ashton will accordingly be at either the beginning (for the whole party) or the end (for the whole party or just the drivers) of your holiday. Cost about £11 per head, minimum £45, plus a small extra charge for bikes or dogs. We will discuss details with you. Those travelling entirely by train can get to Ashton (Guide Bridge station) and Sowerby Bridge from main line trains at Manchester or Preston.