Midweek Break boating holiday to Huddersfield
For everyone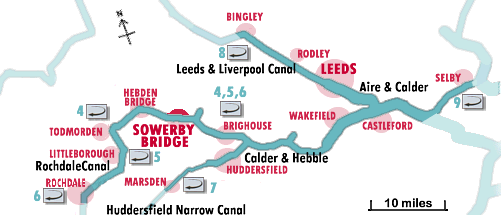 Four night midweek break 34 miles 50 locks 25 hours

This trip gets you to the bright lights, with a huge choice of pubs, clubs and restaurants. The boating bit is interesting, too...
Navigation notes
This is one example of routes which our customers enjoy. Distances and times shown are for the return trip. You can vary the distance to suit you, because there are plenty of turning points ('winding holes') marked in the guides on your boat. Information we provide about specific waterways or suggested routes is for general reference only. Please see more about route availability.
This route includes a short section of river navigation. In normal conditions the rivers are placid but in prolonged wet weather they can flow too fast for safe navigation. In such cases boats wait at safe moorings while flood water recedes - usually quite quickly.
Monday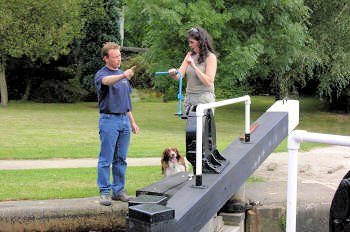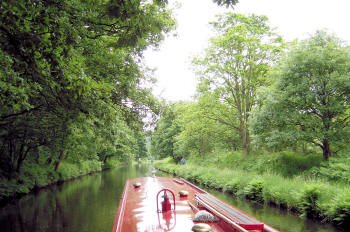 Elland 3 miles 5 locks 3 hours
Arrive at our base in one of the 200-year old canal warehouses at Sowerby Bridge. After a thorough briefing, you set off, and travel along the side of the valley to Salterhebble Locks, where we meet you and take you through your first three locks. You then do another two locks on your own, hidden away in the trees. At Elland you have a choice of two canalside pubs, one with food, or lots more in the town up the hill - along with shops, takeaways and a Co-op supermarket. and of course good pubs and restaurants.
Tuesday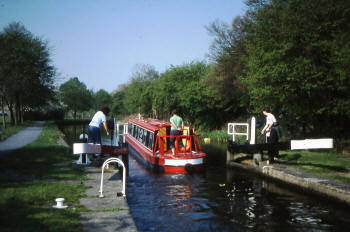 Huddersfield 9 miles 18 locks 8 hours
Next day you head down, past glimpses of lakes, to Brighouse, a busy small town with interesting shops and a Sainsbury's with its own moorings and of course good pubs and restaurants. From Brighouse you go down into the River Calder, and pass under a towering motorway viaduct. A couple more locks take you back into the river, then bear right into the forgotten world of the Huddersfield Broad. This still has a taste of how urban-industrial canals used to be, but the hissing pipes and intoxicating (in some cases literally) smells have given way to creeping greenification, and the canal passes through an attractive park and an amazing lift bridge (sadly, you miss the rush hour) before emerging quite suddenly by the ever-expanding University. Your moorings are very close to the city centre, so you can easily do the extensive shops as well as innumerable pubs, clubs and restaurants. Don't miss the stunning railway station, outside which you will find Harold Wilson.
Wednesday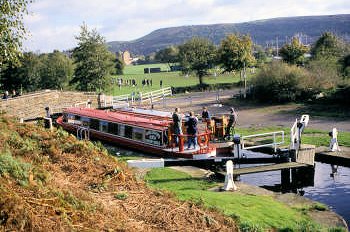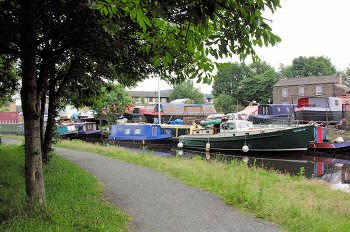 Shepley Bridge 7 miles 11 locks 5 hours
Go down the Huddersfield Broad and turn right into Cooper Bridge flood lock, then down the river to Mirfield. Visit the Ship Inn and useful shops in Mirfield, including a proper hardware shop.
Thursday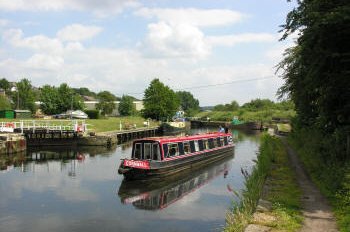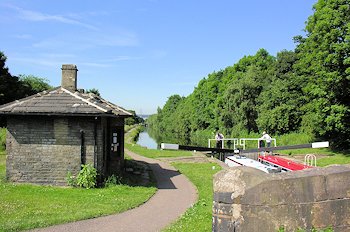 Salterhebble 9 miles 16 locks 8 hours
Turn here and head back most of the way. Take in more details of this historically important navigation, significantly older than most of the canal system - partly designed by John Smeaton, of Eddystone Lighthouse fame. You have splendid views of the hills. At the top of the last lock, detour right along the short Halifax Arm, and overnight here (Brewer's Fayre and ordinary pub).
Friday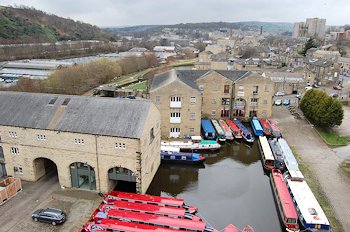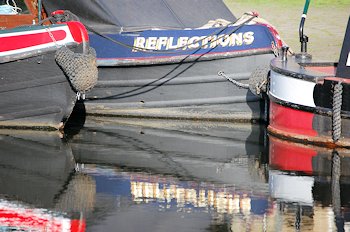 Sowerby Bridge Wharf 2 miles 0 locks 1 hour
A short sail without locks brings you back to base by 0900.
This trip has quite intense boating and longish days, but gets you to the night life in Huddersfield.