Out & back boating holidays to Selby

96 miles 68 locks 40 hours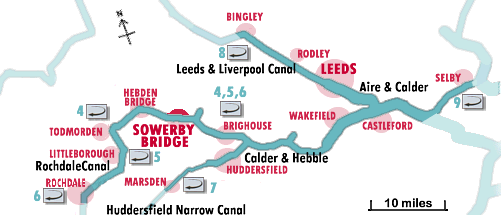 Seven night boating holiday


Sail down the leafy Calder & Hebble Navigation past Brighouse, and through wide river sections and narrow cuttings to Wakefield, where there are good moorings not too far from the bright lights. Then on to Stanley Ferry to see the famous aqueducts and two very convenient and contrasting pubs.
You are now on the Aire & Calder, which is still a thriving commercial waterway, though there are now many more pleasure boats than barges. Electric locks and a wide channel help you speed to Castleford; keep on the main line of the Aire & Calder Navigation towards Knottingley. This section briefly passes through an industrial hinterland, but is full of interest because much water-borne freight comes through - in barges, push-tows and tankers. At Bank Dole you leave the main line and its electric locks, to drop into the Aire as it winds through farmland, stopping occasionally at pretty brick-built villages. And so to Selby, where you can explore the ancient Abbey and market, before taking the train to York - you could have time for a full day there.
This trip gives you time for walks, the pub or simply to sit and unwind.
Navigation notes
This is one example of routes which our customers enjoy. Distances and times shown are for the return trip. You can vary the distance to suit you, because there are plenty of turning points ('winding holes') marked in the guides on your boat. Information we provide about specific waterways or suggested routes is for general reference only. Please see more about route availability.
This route is largely on river navigations. In normal conditions the rivers are placid but in prolonged wet weather they can flow too fast for safe navigation. In such cases boats wait at safe moorings while flood water recedes - usually quite quickly.