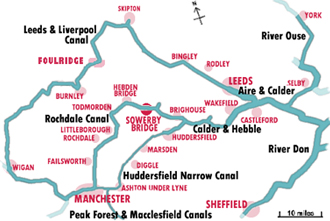 Boat holidays in Yorkshire are a fantastic way of slowing down, and immersing yourself in the Yorkshire scenery. Meet all sorts of interesting people along the canal. If you walk along the pavement in a normal town, you don't often strike up a conversation with those you meet, but on the towpath everything is different.
Locals will tell you where the good pubs and shops are. Boaters will tell you about mooring spots, or give you a hand at the locks. Everything is more relaxed and human.
Your boat is well designed, built and maintained (all by us) and has everything you need, with shower, well-equipped kitchen, TV and DVD.
Your cruising routes include all the best Yorkdhire canals and rivers, including the Rochdale Canal as it climbs into the Pennines.
This site is divided into holidays for everyone, and more demanding holidays for experienced boaters. If this is your first time, pick one of the holidays for everyone and ignore the rest. Or look on our site dedicated to first time boaters on the Yorkshire canals.