Leeds & Liverpool Canal Routes - from Kildwick
Updated 15 August 2018:
The current water shortage has forced Canal & River Trust to close all the locks on the eastern side of the Leeds & Liverpool Canal. For the next few weeks we won't be able to use our normal base at Barnoldswick, so we have set up a new temporary one at Kildwick - about twelve miles to the east. This gives you relaxing cruising in beautiful scenery around the market town of Skipton.
Skipton Pool Relaxation 34 miles 0 locks 10 hours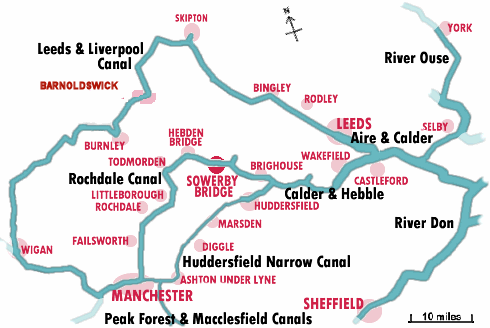 A quiet cruise through glorious scenery on the edge of the Yorkshire Dales, with pretty villages and the market town of Skipton, plus lots of good walks. There are no locks on this route - instead you have lots of swing bridges!
Leaving our base, head westwards towards Gargrave, through pasture land on the edge of Airedale. Turn just below Holme Bridge, on the edge of Gargrave. The Masons Arms in the village is worth the walk. For a longer walk, catch the bus from Gargrave to Malham, then do a three hour circular walk taking in Malham Cove, Gordale Scar and Janet's Foss waterfall.
Then go back, and moor in Skipton. The Castle is an essential visit, and the town has excellent shops, a thriving market, good pubs and restaurants (including renowned fish & chips just by the canal) and a proper cinema.
After Skipton, keep along the side of the valley, passing the pretty village of Kildwick and the rather larger Silsden. Eventually you pass through green space above Keighley, to arrive at the top of Bingley 5 rise locks. There are moorings here, and a turning point. Walk down the flight, the tallest staircase in Britain - an astonishing feat of engineering, working now exactly as intended when it was built two centuries ago.
On your return trip, visit East Riddlesden Hall, a small National Trust house (Bridge 197A). From Bridge 197, you can catch a 662 bus to Keighley Station, and take the steam train to Haworth - walk up the narrow cobbled street to the Bronte Parsonage Museum. The same bus in the other direction will take you to Saltaire, a huge mill complex, with substantial model village for its workers. Its creator was Sir Titus Salt. The streets of the village are named after his many children and grand-children. Sir Titus built a church for his particular brand of non-conformism. He was a strict tee-totaller, so he created a large and impressive educational institute, but no pubs... Today you can explore some of the buildings. See an interesting video about the rise and fall of the mills, an amazing kitchen shop, an excellent bookshop, a not-to-miss Diner - and a display of work by local lad David Hockney. Also visit Cliffe castle in Keighley, the home of another Victorian textile tycoon, Henry Butterfield. For more train trips, take the Embsay and Bolton Abbey Steam Railway (start by bus from Skipton coach park - or vintage bus on certain days). And don't miss Ribblehead Viaduct on the Settle-Carlisle Railway - you can plan a day with visits to Dent or Appleby. Not to mention proper cinemas such as the Plaza, Skipton (right by the canal) or Odeon Keighley