2022 Tour de Yorkshire
2022 route
The 2021 Tour has been postponed. The route for 2022 is not known, but may be similar to that planned, but cancelled, for 2020. We hope that Halifax will again be a host town for the 2022 Tour de Yorkshire.
The 2020 Tour de Yorkshire was planned to take in 612.5km of roads (43% new roads), two National Parks and 160 towns and villages from all four corners of the county. There would have been 17 categorised climbs & 8 intermediate sprints.
Both routes would be the toughest in the history of the race and feature more climbing than ever before, including the Côtes de Buttertubs and Grinton Moor - both making their first appearances since the 2014 Tour de France - and the return of the infamous Shibden Wall.
Men's Race
Stage 1 Thursday 30 April: Beverley to Redcar 176.5km
Stage 2 Friday 1 May: Skipton to Leyburn 124.5km Meets the canal at Skipton and Gargrave
Stage 3 Saturday 2 May: Barnsley to Huddersfield 134km Meets the canal at Marsden to Slaithwaite, Sowerby Bridge to Todmorden, Brighouse and Huddersfield
Stage 4 Sunday 3 May: Halifax to Leeds 177.5km Meets the canal in Skipton and Leeds
ASDA Women's Race
Stage 1 Friday 1 May: Skipton to Leyburn 124.5km
Stage 2 Saturday 2 May: Barnsley to Huddersfield 114.5km
Find out more on the VisitCalderdale website, or click the link below
The pictures show some of the route for the triumphant 2014 Grand Départ.
---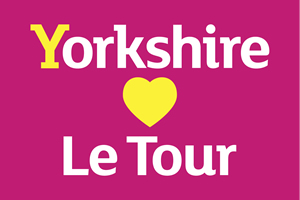 Keep up to date at the official website - just click this image